Our Society will hope to submit constructive responses to all significant Planning Applications and Public Consultations for Tiverton and the immediately surrounding area. Our responses will appear on this page.
The National Model Design Code and the National Planning Policy Framework (NPPF)
The much heralded and long awaited National Model Design Code has at last arrived!
The National Model Design Code was published by the government in January. A public consultation was held, linked to likely changes in the National Planning Policy Framework, and this ran until March 27th 2021. The new plans envisage a much greater and genuine involvement in the design of new residential developments for local community groups, including Civic Societies and Neighbourhood Plans, as well as encouraging the formation and involvement of Community Panels. Among many other requirements, it also stresses that all new developments must reflect local character and that planning applications should be refused if this does not occur. The Guidance Notes for Design Codes should also be consulted in conjunction with this document.
Civic Voice have prepared a draft response: NMDC_consultation_Civic Voice response_v1.
Mid Devon District Council have already adopted  a  Design Guide for the Tiverton Eastern Urban Extension (2016), and a Mid Devon Design Guide SPD (2020) .In addition the Tiverton Neighbourhood Plan Design Code  has recently been published, also in 2020. Although recent, these may need to be amended when the National Model Design Code becomes a statutory planning document. The Tiverton Eastern Urban Extension Masterplan SPD, 2014, revised in 2017, also includes important design guidance.
Full details about this important consultation can be accessed online. East Devon District Council call it 'essential reading for a wet afternoon'!
Another new Local Plan!
Following the adoption of the Mid Devon Local Plan 2013-2033, which took seven year's intensive work, they will soon be required to produce another much shorter new Local Plan as part of the Government's new planning proposals. 'This new Local Plan will cover Mid Devon District.
Once adopted, it will form part of the Development Plan for Mid Devon together with other
development plans (once adopted) including the Devon Minerals and Waste
Local Plans and Neighbourhood Plans. The new Local Plan will include strategic
policies and non-strategic policies for the use and development of land and
buildings in Mid Devon. The new Local Plan, once adopted, will supersede the Local Plan Review 2013 –
2033.
The following table sets out the timetable for production and adoption of the
document:
Stage Date
Reg 18 Issues Consultation August – October 2021
Draft Policies and Site Options
Consultation
October – November 2022
Reg 19 Publication (Proposed
Submission) consultation
January – February 2024
Submission May – June 2024
Examination and Main Modifications September 2024 – March 2025
Adoption June 2025
(Under current government proposals the new 'streamlined' Local Plans should be focused on where they can add real value: allocating enough land for development in the right places, giving certainty about what can be developed on that land, making the process for getting permission for development as simple as possible,
and providing local communities a genuine opportunity to shape those decisions. To this end,
Local Plans should:
• be based on transparent, clear requirements for local authorities to identify appropriate
levels of, and locations for, development that provide certainty and that applicants and
communities can easily understand;
• communicate key information clearly and visually so that plans are accessible and easily
understandable, and communities can engage meaningfully in the process of developing them;
• be published as standardised data to enable a strategic national map of planning to be created;
• be developed using a clear, efficient and standard process;
• benefit from a radically and profoundly re-invented engagement with local communities so
that more democracy takes place effectively at the plan-making stage; and
• set clear expectations on what is required on land that is identified for development, so that
plans give confidence in the future growth of areas and facilitate the delivery of beautiful and
sustainable places. 'Planning for the Future' White Paper, August 2020).
Supporting housing delivery and public service infrastructure
This government consultation was published on December 3rd, and closed on January 28th, 2021.It proposes a new permitted development right for the change of use from Commercial, Business and Service use to residential to create new homes, measures to support public service infrastructure through the planning system, and the approach to simplifying and consolidating existing permitted development rights following changes to the Use Classes Order.
Many people are alarmed by aspects of these proposals, in particular because of the potentially damaging effects on Conservation Areas. 'Converting shops to homes could destroy town centres' (British Property Federation). Please also see the Times article on February 11th concerning strong opposition from 27 groups representing town centre business organisations.
Civic Voice, this society's parent organisation, express their concerns:
'Civic Voice is aware as much as anyone about the challenges facing the high street, but we question Government claims that these proposals will breathe new life into high streets and town/city centres. It may instead, simply enable change of use to more profitable uses, often residential, rather than enabling a greater range of uses to diversify and support high streets/centres. We certainly cannot support the proposed change to allow properties within conservation areas, falling under Class E (Commercial, Business and Service), to change use to Class C3 (Residential) without the need for planning permission. Many of these buildings, often located within historic high streets, town and city centres, contribute to the character of some of our most treasured and locally loved historic areas. Conservation areas have been designated locally because they are "areas of special architectural or historic interest, the character and appearance of which it is desirable to preserve or enhance" (s69 Planning (Listed Buildings and Conservation Areas) Act 1990).
The danger with deregulation is that it can often lead to unscrupulous developers/ landowners exploiting loopholes, as we have seen with previous widening of PDR (Permitted Development Rights), which the Government's own commissioned report concluded that permitted development rights create "worse quality residential environments". A limited list of prior approval matters may not necessarily secure a high quality residential environment or vibrant, diverse and planned centres.
We cannot support this policy which is why we worked with civic societies across England for the past few weeks to coordinate a response for all Civic Societies to respond to this consultation'.
Tiverton Civic Society's Response was submitted on January 28th: PSI_and_PDR_condoc_response_proforma. Tiverton Civic Society (1).
Despite the many objections the Housing Minister, Robert Jenrick has allowed  the extension of permitted developments rights in urban centres as from March 31st 2021. However, he has included a number of concessions to those who have objected, 'prior approval', requiring 'high standards', replacing the requirement for full planning permission; greater protection being given to historic buildings and heritage assets,; and a strict control on housing standards being required when there has been a change of use. However, many people and organisations still feel considerable concern about these plans, including The National Trust, the Royal Town Planning Institute and the Royal Institute of British Architects.
Civic Voice's latest response (30.4.21) follows:
Civic Voice briefing on recent planning changes: Spotlight on 'Class E'
Earlier this month, Housing Secretary Robert Jenrick announced the introduction of new legislation in England to allow certain properties – known as Class E Commercial, Business and Service – to be converted to housing without the need to submit a planning application. Government wants these planning changes – known as permitted development ("PD") rights – to invigorate the high street following the pandemic, giving life to vacant buildings.

You can see the Government's response to the consultation here, and you will see that the majority of respondents opposed the measure. 

This week we hosted an informal briefing for planning officers, civic societies and other community groups to try and explain in plain English, what the announcements actually mean.  To quote one participant in the meeting 'So this Govt isn't interested then in local community views is it!! They are riding roughshod of our neighbourhoods'… sums up pretty much the feeling of the meeting. 
New planning rules: What do they mean for you and your conservation area?
Continuing our spotlight on the recent changes to the planning system, our next 'spotlight' event will be on the impact of the latest permitted development rights, with a specific reference to conservation areas. 
Despite strong opposition from Civic Voice, and around two-thirds of respondents to the consultation objecting to the proposal, the Government will be applying a new permitted development right in conservation areas to allow the change of use from Commercial, Business and Service use class to residential, without planning permission.
Civic Voice has been opposed to the right applying in conservation areas due to the impact on the character and appearance of the area, including on sites of special architectural or historic interest. We feel that a planning application should be required for the change of use in conservation areas to enable local consideration of the impacts and to maintain the character of the area and the mix of uses.
Nonetheless, Government is going ahead with this change, so our next spotlight session will be considering what does this policy change mean for conservation areas. We will also touch on the fact that Government pledged to give Conservation Areas 'protected status' in the Planning White Paper… does that even matter now?
This informal briefing by Civic Voice will explain in plain English, what the recent Government announcements actually mean for conservation areas and why you and your civic society need to be aware.
Tiverton Neighbourhood Plan Consultation
Tiverton Neighbourhood Plan – Latest
Tiverton Neighbourhood Plan sets out to ensure that Tiverton is a sustainable community and that all future developments meet government legislation regarding emissions, passivity and carbon neutrality. The final iteration of the plan will be subjected to scrutiny by One Planet to test its sustainability.
Several members of Tiverton Civic Society have been members of the team putting together the Plan.
We now need your opinions. Please follow the links below, read the Draft Plan, Housing Needs Assessment and Design Codes and let us have your comments by the end of 2020..
The latest 
Bulletin
 gives information about the current progress.The 
Draft Plan for Informal Public Consultation
 is now available to download.
There are two supporting documents, both produced by consultants AECOM, with the benefit of Government grants:
We need your feedback.  Please go to the Contact Us section to let us have your comments.
You can also participate in an online survey here …
https://www.surveymonkey.co.uk/r/TNP1
The Tiverton Neighbourhood Plan is for the benefit of the community of Tiverton.  It is your plan.  Please take a look.
Tiverton Eastern Urban Extension Area B Masterplan
Public consultations on the proposed Area B Masterplan were held in February and March 2020. MDDC has now reacted positively to the many suggestions put forward:
https://www.inyourarea.co.uk/news/concern-over-plans-to-build-1500-homes-in-tiverton-listened-to/
One positive aspect is that it is that there will not be any normal vehicular access to Area B through Mayfair, Manley Lane or Hartnoll Farm.
Planning Application 20/02159/PNCOU | Prior notification for the change of use of agricultural buildings to 5 dwellings under Class Q | Land and Buildings at NGR 299852 116116 (East Mere Farm) Uplowman Devon
Tiverton Civic Society objected to this application, details of which are on the MDDC Planning Portal
Our letter of objection can be read on this link.    The Application has now been withdrawn by the applicant.
Planning Application 19/00210/MFUL
We have objected to the application to build 18 houses in the former NHS hospital site at Post Hill Revised TCS RESPONSE to 19.00210.MFUL. April 2019
This application was granted planning consent on September 6th 2020. Road access through to site from Blundell's Road to Braid Park will be secured following completion of a Section 106 agreement.
Planning Application 19/00182/FULL
We have objected to the application to build a house in the green corridor south of West Manley Lane Letter concerning West Manley Lane Planning Application 19.00182.FULL March 2019
This application was refused planning permission on 26th April 2019.
Planning Application 18/01814/MFUL
Tiverton Civic Society have objected  tivertoncivicsociety28229 to this application to build six holiday cottages next to the Grand Western Canal.
LIDL Application 18/00915/MFUL
Our Planning Group was unable to meet to discuss this application, but a letter was submitted by the Chairman, expressing his personal views. lidl-application (Revised)
Serious objections, from the Environment Agency and others, especially relating to the flood risk for this site,  delayed this application. However, planning permission, subject to a number of stringent conditions, was finally granted on December 5th 2018.
Lidl have announced a planned opening date of Thursday, February 25th 2021.
Tiverton Town Centre Regeneration Masterplan SPD Public Consultation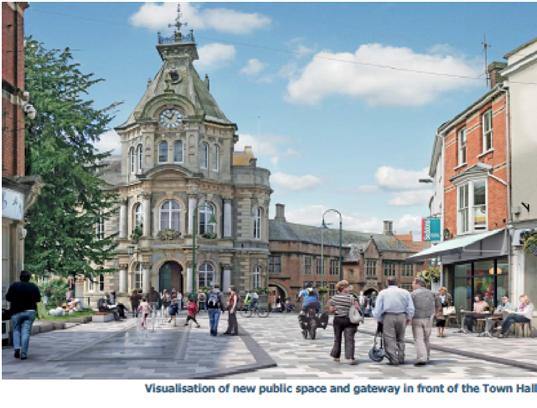 .
Details are now available for the Tiverton Town Centre Regeneration Masterplan Consultation. 
This plan has been provisionally approved, although parts of it were rewritten (April/May 2019). Modified plans for a new wider entrance to the Market Place from Fore Street has been given planning permission and some enhancement of Market Walk has taken place. Please also see the Crediton Courier for more recent developments. At present (2021) the whole future of this plan is uncertain, with calls from councillors and others for it to be scrapped or drastically revamped.
Planning Application for Land off Uplowman Road, Tiverton.
A full Reserved Matters application, 18/00133/MARM, was submitted by Barratt Homes for the construction of 248 dwellings, 3 Gypsy and Traveller pitches, public open space, landscape planting, pedestrian, cycle and vehicular links; and associated infrastructure.
The application was finally approved by the MDDC Planning Committee on August 8th 2018 and the site is being developed.
Planning Application 17/01509/MFUL. (Rear of Town Hall).
TCS Comment on Planning Application 17.01509.MFUL (Rear of Town Hall) for 39 dwellings together with underground car parking, landscaping etc. This application was discussed by the MDDC Planning Committee at their meeting on Wednesday, November 29th, and it was approved with conditions. https://democracy.middevon.gov.uk/documents/s10294/Town%20hall%20report.pdf 
https://democracy.middevon.gov.uk/ieListDocuments.aspx?MId=782&x=1
A key issue is the effect that a large new retail outlet village at Junction 27 might have on local town centres, where there is already over-capacity.
Such a development could lead to many more potential shop closures, raising concerns about the declining fabric of the built environment. See Also. 
In addition, see a  report in the Daily Telegraph for 8.11.17 on the failure of the Portas initiative to revive high streets. ('I hoped it might kick-start something – but it didn't' – Mary Portas). Has Tiverton's Portas Committee been successful in achieving its objectives so far?
Exeter Hill
Our Society objected to Planning Application 17/00942/MOUT for up to 50 houses off Exeter Hill, Tiverton.
TCS Objection to 17.00942.MOUT July 2017 (2)
A further objection was submitted in response to changes in the original application.
Further TCS Objection to Planning Applcation 17-00942-MOUT (Exeter Hill, Tiverton)
Revised access proposals remain unsatisfactory.
Update (23/10/18). This application has been refused planning permission.
An appeal was launched against the decision of MDDC to refuse planning permissionand the appeal was refused by the Planning Inspector in September 2019.
Design Guide for the Tiverton Eastern Urban Extension.
Several members of Tiverton Civic Society were members of the consultation group involved in the preparation of the Design Guide.
                                 Completed New Homes at Braid Park (David Wilson Homes) in March 2021